Explanatory Data Analysis group
Manon Wintgens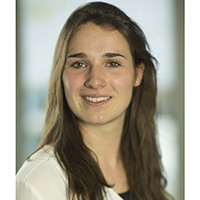 PhD student

Manon is a PhD student of the Data Science Research Program at Leiden University. The Data Science Research Program is a multidisciplinary program in which each PhD student works on a data science research project for one of the seven faculties of the University of Leiden. Manon's research is dedicated to Data Science in the Tax Domain, a collaboration between Leiden Centre of Data Science (LCDS) and the Institute of Tax Law. She is supervised by prof. dr. ir. R. Arendsen and dr. I.J. Mosquera Valderrama from the Institute of Tax Law, and by dr. M. van Leeuwen from the Leiden Institute of Advanced Computer Science (LIACS).
The research aims to investigate whether we can provide an understanding of the international tax systems as a complex system with the aid of data science and mathematical tools, with as main goal to analyse the international tax systems behavior.
Manon received her Master degree in Business Analytics at the Vrije Universiteit of Amsterdam in 2017. She is interested in tax law, complexity science, network systems, text mining and predictive modeling.