Explanatory Data Analysis group
Hermes Spaink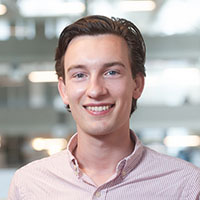 PhD student

Hermes is a PhD student at the LUMC doing research on AI in neuroscience. Using state-of-the-art machine learning and data mining techniques he works on building predictive models for migraine and stroke. Large patient datasets integrated with e-health data are used to develop systems which can be used by patients themselves in order to preemptively change their behavior, leading to less pain and injuries.
This project forms a bridge between data analysis and the healthcare sector and thus a close collaboration between the EDA group of the LIACS and the department of neurology of the LUMC. The main supervisors of the project are Gisela Terwindt, Marieke Wermer, Matthijs van Leeuwen, and Arn van den Maagdenberg.
Hermes completed his master in bioinformatics at Leiden University in 2020. His interests lie with applying the analytical parts of data science to current problems in biology, biomedicine and the healthcare system.